Youth Voice website wins Highland Council Quality Award, 25th September 2002


The presentation team in the Ptarmigan Restaurant
The presentation team consisted of 2 Youth Voice representatives (Calum Duncan and Amy Johnson) Veronica McKay from Highland Council and Ella Smith from ITC. They emphasised the way that the website improved communication within the organisation and helped further Youth Voice's role in giving young people in Highland region an early and positive experience of democracy, using a medium which especially appeals to them. The key to the success of the website has been the involvement of young people throughout the development process: choosing and refining the look and feel, adding the content and suggesting useful additions, such as a guest book and the facility for members to volunteer for upcoming activities online.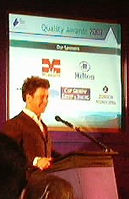 Judging took place in Inverness and the results were announced at a ceremony in Scotland's highest restaurant, the Ptarmigan, at the top of the new CairnGorm Mountain Railway, near Aviemore. The team were delighted to receive the Chairman's Award. This is a cross category award, given by the chairman of the judges' to his favourite project.
The awards were presented by Hamish Clark (right), known for his portrayal of Duncan in the BBC series Monarch of the Glen.
ITC have been working with HYV since 2000, building a website for the online elections of the first Youth Voice representatives in October 2000. The development of the current website which began a year ago and was officially launched in March by Charles Kennedy.
The website contains:
a newsfeed, where Youth Voice representatives can add items (such as news and minutes) to keep their peers up to date on progress;


an online policy debating forum, where all young people in Highland can join in debates about matters which affect them (currently health and exercise);


and an election section where voting will take place (between 5th and 10th October) for the next set of Youth Voice representatives. This contains information about how the elections work and the candidates' manifestos for each school so that students can make an informed choice.
The current (2005) website can be found at www.highlandyouthvoice.org/home.asp.
Archive of the Youth Voice website, as it was in 2002.
Associated projects