Formal launch of Scottish Parliament e-Petitions System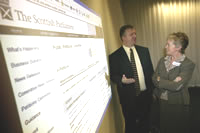 The Scottish Parliament's Public Petitions Committee formally launched the electronic petitions system on 11th February 2004 in the Apex International Hotel in Edinburgh. At the lunchtime event there was a demonstration of how the e-Petitions system works, including the live electronic signing of a petition. Lorraine Dilworth signed the petition: 'Funding request for the I.S.E.A. support group'
The launch, hosted by the Committee and the Presiding Officer was attended by a wide range of civic groups and organisations representing many aspects of Scottish life.
Convener of the Committee, Michael McMahon, said:
"The public petitions system is widely regarded as one of the success stories of the Parliament. Our Committee is really enthusiastic about the potential of this groundbreaking development which should further enhance the public's access to the petitions system."
Presiding Officer, George Reid, said:
"The petitions system is an integral part of our openness and accessibility. Quite rightly, it has an enviable reputation worldwide and the development of e-Petitioning can only enhance this.
"Westminster, the Canadian Parliament, the Basque Parliament, the Bundestag and the European Parliament have all been impressed with our petitions system. No doubt we will proudly show-off the new electronic system to more visiting Parliamentary delegations in the future."
The Scottish Parliament system uniquely allows an online debate among members of the public with an interest in a petition. As a recent OECD publication states:
"Few countries have used technology to enable electronic petitioning to the extent of the Scottish Parliament."
Ann Macintosh, Professor of e-Governance at Napier University said:
"We are excited by this opportunity to help give people a truly democratic voice in Scotland . Having brought together best practice from around the world to develop the e-Petition system, it is very exciting to see the concept accepted by the Scottish Parliament."
Background
An e-Petition is published on the web for a set period of time before being formally lodged with the Parliament. The Public Petitions Committee will then consider the petition along with a report from the ITC at Napier University on the extent of support gathered on the web and a summary of the online debate.
The e-Petitioner system, which was developed by the International Teledemocracy Centre (ITC) at Napier University in partnership with BT Scotland, allows the petitioner the opportunity to gather support from a much wider constituency than traditional methods and, indeed, some electronic petitions have attracted support from as far as Australia, Barbados, New Zealand and the United States.
The Queensland Parliament in Australia is the only other Parliament to allow e-Petitions that collect names and addresses over the Internet, but the Queensland system does not allow an open discussion of the issue and the petition has to be submitted by an MP. In Scotland anyone can submit an e-Petition.
The Convener of the Committee will attend a seminar on 'e-Democracy: Voting and Participation' hosted by the European Commission in Brussels on 12/13 February. He will participate in a plenary session to discuss and promote the new e-Petitioner system.
Associated projects