Experts Work Together for the First Time to Evaluate Local eDemocracy
Democracy - everyone agrees it's important but when it comes to deciding whether or not it's effective, there is far greater scope for debate.
Bristol City Council is leading the evaluation of the Local eDemocracy National Project. Recognising the challenge that lies ahead, they have recruited three leading academic experts to help.
Professors Stephen Coleman of the Oxford Internet Institute, Ann Macintosh of Napier University's International Teledemocracy Centre and Mansur Lalljee, Fellow of Jesus College Oxford met as a team for the first time on Monday. Over the next six months they will be working together to assess how technology is being used most effectively to invigorate democratic involvement between citizens, their local council and their elected representative.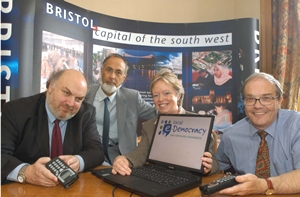 The Expert Team with Nick Gurney, Chief Executive of Bristol City Council
Professor Macintosh, who has previously worked with governments, including the Scottish Parliament, business and voluntary organisations in the UK, Europe and the US to research and develop e-democracy systems says, "I am very excited by this ground breaking evaluation project and by the chance to work as part of the experts team. Evaluating democracy is a complex task and it is important to draw upon many different perspectives."
The Local eDemocracy National Project is one of twenty-three National Projects, which form an eighty million pound government programme. Outputs from the eDemocracy Project, including the results of the evaluation, are due to be made available to all councils in March 2005.
Contact: Stephen Hilton
Corporate Consultation Manager &
Evaluation Lead Local eDemocracy National Project
Bristol City Council
College Green
Bristol
BS1 5TR

0117 9224644
stephen_hilton@bristol-city.gov.uk
www.bristol-city.gov.uk
Associated projects