eParticipation Scotland Baseline Workshop
The International Teledemocracy Centre (which is part of the Centre for Social Informatics in the School of Computing) recently hosted a very successful ESRC funded workshop to establish the baseline for eParticipation in Scotland. The workshop, which was organised by Ella Taylor-Smith, gathered stakeholders in e-participation in Scotland (including technology companies, academics, governmental/ legislative, public sector/ charity and citizens) together in order to: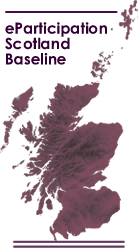 Bring people and organisations together and establish their current skills and needs in relation to e-participation.
Share knowledge about current and future e-participation projects and opportunities; establish common and complementary areas of interest.
Facilitate partner matching for future initiatives through a "speed dating" session e.g. dividing attendees into e-participation skills and e-participation needs.
Begin to define the current baseline of e-participation in Scotland: i.e. live and planned initiatives, organisations, opportunities.
The workshop which was attended by over 20 people was held at Napier on 27th November 2007.
Associated projects