ITC Celebrates 10th Anniversary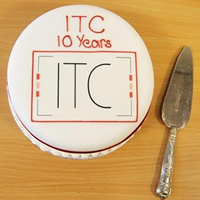 Today the ITC celebrated its 10th anniversary with a seminar and birthday cake.
Peter Cruickshank delivered a presentation on the work co-authored with Dr Colin Smith -Self-efficacy as a factor in evaluation of e-petitions - which won the best paper award at the recent Conference on Electronic Democracy in Vienna.
Staff and students from the International Teledemocracy Centre and Centre for Social Informatics (CSI) were joined by former staff and people from organisations we have worked with over the years, including The Scottish Parliament's Public Petitions Committee, Hansard Society Scotland and Young Scot.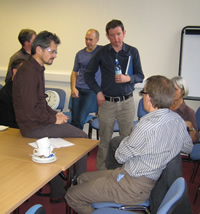 After the cake and presentation, a lively discussion ensued.
The anniversary marks 10 years since autumn 1999, when ITC were working with BT Scotland on the first electronic petitions system. The first ePetition, to The Scottish Parliament, was launched at Dynamic Earth in December 1999. The petition called for The Parliament to include Marine National Parks in the National Park legislation which was undergoing consultation at the time.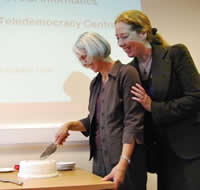 The occasion was also Kathy Buckner's last duty as Director of CSI. We wish her well in her retirement. We welcome Dr Hazel Hall as CSI's new director.
Cruickshank, P. and Smith C.F. (2009) 'Self-efficacy as a factor in evaluation of e-petitions', Alexander Prosser and Peter Parycek (eds) Proceedings of EDEM 2009 - Conference on Electronic Democracy, September 7-8, 2009, Vienna:pp223-232
Abstract
Full paper (pdf)
Associated projects