Rhona Brankin MSP Goes On-line to Pupils as they Have Their Say on a sustainable Scotland 7th September 2001
On Friday 7th September Rhona Brankin, Deputy Minister for Environment and Rural Development, took part in a live on-line consultation with school children on their views on how to shape a more sustainable Scotland.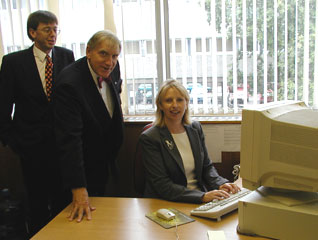 Rhona Brankin MSP with Napier Principal John Mavor and (on the left) BT's Brendan Dick.
"It is all too easy for adults to take the views of young people for granted," she said, "but the decisions we take today on environment policy will shape the world that they will have to live in - that long term view is at the heart of sustainable development. That is why I am encouraging young people to take part in this consultation to tell us what they expect from government, from industry, from society."
Ms Brankin was at Napier University's Merchiston Campus in Edinburgh to link-up for the question and answer session with the 6th form pupils from Lourdes Secondary School, Cardonald, Glasgow who were at BT Scotland's offices at Alexander Bain House, 15 York Street, Glasgow. The young people's views will help shape Scotland's input to the World Summit on Sustainable Development in South Africa in 2002.
The e-consultation is part of a nation-wide exercise taking place now to gather the views of Scots on key issues facing a future Scotland. It asks Scots to give their views on a range of issues from efficient use of resources to lifestyle and transport. The consultation is taking place only on-line so anyone with access to a computer or the internet can have their say.
"Everyone who cares about the future of Scotland and our world should log on and have their say" continued Ms Brankin "This is a unique chance to help set the agenda for all our futures and I personally am very excited about the challenges that might come out from this consultation."
The e-consultation is being run by the ITC on behalf of the Scottish Executive. Until the 8th October anyone can participate by going to e-consultant.org.uk/sustainability and comment on seven key issues, including energy and climate change, public health, and the environment. Questions such as: How should Scotland met its energy needs? How should we travel around in the 21st century? are being addressed.
The views gathered will be used in shaping Scotland's input at the World Summit in South Africa next year. The last summit was held in Rio in 1992.
Ann Macintosh, Director of the International Teledemocracy Centre at Napier University, said the e-consultation was a new way for Scots to have their say on the future sustainability of the country.
"This is an important milestone in e-participation. The Executive is asking the people of Scotland to work with them to formulate policy rather than comment on existing policy. Anyone with access to a computer, either at home or at a friend's house or in a cybercafe, can take part in this consultation. This is a real chance for people to have an important input into shaping policies which will affect all of us in the future," said Ann.
Associated projects