Charles Kennedy launches Youth Voice website, 22nd March 2002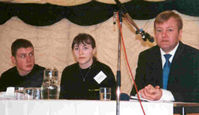 On 22nd March, Charles Kennedy MP launched Highland Youth Voice's e-democracy website at the youth parliament's meeting in Aviemore, Scotland.
"The Highland Youth Voice website is one of the most eloquent retorts I have come across to those people who say young people are not interested in politics. Anyone who is concerned that young people are apathetic towards politics should visit this site.
The young people in the Highlands have a good understanding of the key issues. They are prepared to face up to some of the tough decisions that we are facing as a society and look at fresh and radical ways of addressing our problems.
It is only by listening closely to what young people have to say and really taking on board their opinions that politics will speak to the next generation of voters. This is an excellent site and demonstrates that many young people care deeply about political issues."
Charles Kennedy MP
Combining the power of the internet with young people's motivation to use new technology makes this website an ideal way to engage young people in decision-making. It provides the means to inform and, importantly, get input from young people living right across the Highland Region of Scotland.
Members of the Highland Youth Parliament believe strongly in listening to, and consulting with, the young people they represent. They will use the website to hear from young people with policy ideas and get reaction to ideas put forward. The website's online debating forum encourages young people to participate in democratic decision-making affecting their own lives. The first on-line debate for the parliament is taking place in the Your Voice section and focuses on the introduction of citizen cards for young people. This is open to everyone between the ages of 12 and 18 in Highland region enabling a wide group of young people to have a say in their local police force's Youth Strategy.
The e-democracy services and website are being developed by the International Teledemocracy Centre at Napier University in close collaboration with the young people from Youth Voice. As well as the online debating forum, there is a news section where Youth Voice members can keep everyone up to date on their activities and an elections section where young people will use internet voting to elect new members in Autumn 2002.
The current (2005) website can be found at www.highlandyouthvoice.org/home.asp.
Archive of the Youth Voice website, as it was in 2002.
Associated projects