eParticipation Scotland Baseline Workshop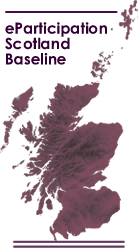 What we mean by eParticipation is using technology (especially the Internet) to broaden and deepen political participation by helping citizens to connect with one another and with their elected representatives and governments.
A one day event to:
Bring people and organisations together and establish their current skills and needs.
Share knowledge about current and future e-participation projects and opportunities; establish common and complementary areas of interest.
Facilitate partner matching for future initiatives through a "speed dating" session e.g. dividing attendees into e-participation skills and e-participation needs.
Begin to define the current baseline of e-participation in Scotland: i.e. live and planned initiatives, organisations, opportunities.
The final report aims to summarise the workshop and collate the outcomes, including the final impact assesment. If you have any comments or corrections, please get in touch.
Date and location
Thursday, 27th November, 9:30 - 4:30
The Castle Room, Craighouse Campus, Craighouse Road, Edinburgh, EH10 5LG
Speakers and presentations
Each speaking slot is short but informative (e.g. 10 minutes). The idea is to outline current initiatives and future plans/strategies and generally get the ball rolling.
Presentations are in pdf format and linked to the name (except Ella's).
Fergus Cochrane, Clerk to the Public Petitions Committee, The Scottish Parliament, could not join us, but has provided the text of his presentation.
Outputs and Community
The event will result in 2 initial outputs:
A map of the Baseline of e-Participation in Scotland (i.e. current situation)
Ideas list for e-Participation Outcomes in Scotland (objectives, benefits and public value)
We hope to continue working on these outputs in the 6 months following the event, with the participation of workshop attendees and other interested parties.
We have set up a community, eParticipation Scotland, which we're hoping to use to work on the outcomes and build a network. If you're interested in eParticipation and eDemocracy in Scotland, please join.
The eParticipation Scotland community is part of Communities of Practice for Local Government.
Some photos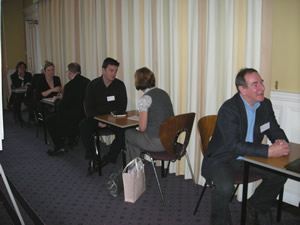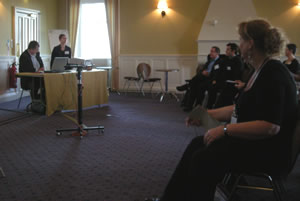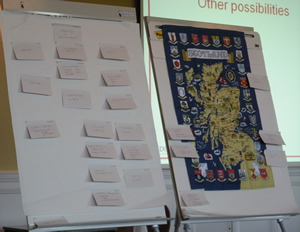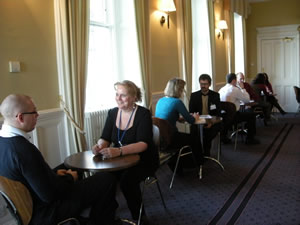 Sponsors

The workshop is sponsored by ESRC, The Economic and Social Research Council.
Links on this website
News: