Highland Youth Voice
The Highland Youth Voice project concerns working with young people to develop an e-democracy website to serve their parliament.
Highland Youth Voice (HYV) is a democratically elected assembly of young people in the Highland Region of Scotland: a local youth parliament. Members (aged 14-18) are elected every 2 years and represent geographical districts, either as representatives of schools or local youth fora. Highland Youth Voice is sponsored by the Highland Wellbeing Alliance: a coalition of public bodies working in the Highlands with an interest in young people's happiness and welfare.
As well as being a practical way for young people to have some control over issues which effect them, HYV gives young people an early and positive experience of citizenship.
ITC have been working with Highland Youth Voice since 2000. There is more about previous stages of the project under 'History' below.
Current Research
Youth Forum websites
Each administrative district of the Highland Region has a youth forum. These have grown with the youth parliament. Many of the youth fora are now eager to have their own web presence. The research question concerns the amount of control over the style and layout of the forum's pages to give to the forums members, commensurate with their technical skills. It is also important that the pages are sustainable and not dependent on one particularly technically skilled young person. ITC will work with 2 youth fora, initially to explore these questions and find the right balance. Appropriately dynamic pages will then be created, while we work with the forums to support and improve their use.
Events calendar for youth workers in Highland
This part of the project concerns the development of a centralised events calendar and document repository for youth workers in Highland, to support better coordination of their work. Youth workers will be able to add events to the calendar and upload documents. The project will consist of working with youth workers to create the most appropriate functions surrounding these resources.
History 1: HYV website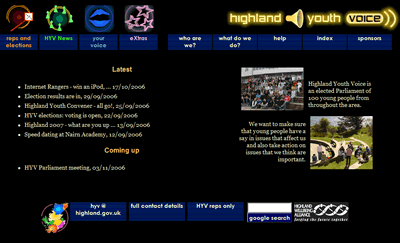 The e-democracy tools were in the form of a database driven website, which allows users to control content without html skills. The website consisted of:
HYV News: a content management system. This included news, an events calendar, minutes from meetings, photo diaries and summaries of achievements. This content could be added or updated by Youth Voice members, using simple forms: for example, each representative can add news items from their local area or diary entries from Parliament meetings.
Your Voice: an online policy debating forum. This section was similar to ITC's e-consultant, tailored to suit young people in Highland through a series of workshops. It hosted debates and consultations: all young people in the region could be involved in decision-making processes. Young people could read the background to a debate, read each other's comments and make their own. Expert witnesses helped out with each debate. They provided background information and joined in the discussion, keeping it moving forward. All young people at secondary school in the Highlands (aged about 12-18) were issued with user-IDs and passwords to enable them to take part in the debates. Your Voice was available on a read-only basis to the public. There was also a members' only discussion forum in the Admin section.
Reps and Elections: During the website redesign of Spring 2005, the web team decided that information about representatives should be grouped with information about (and functions for) elections. Thus this section contained information about who the representatives were for each school or local youth forum. These details could be updated by the representatives themselves. The section also contained information about the HYV Executive Committee and a questionnaire for ex-members.

The elections part of this section contained comprehensive information about the Youth Voice elections, which are held every other year. This included candidates' statements and results from previous elections. This section also included an e-voting system for students in schools which chose to vote online.
There was also a mock elections tool to allow people to try out a version of the e-voting system.
The elections in 2004 and 2002 were supported in the elections section of the previous version of the website.
eXtras: This section contained 'fun stuff', such as the Shout Out board and photos, but also various links pages, including useful links, fun links and links to Highland school websites.
History: further back
e-Voter 2000
ITC began working with Highland Council on the Highland Youth Voice project in 2000, when we provided an e-voting system to elect the first set of members. The e-voter system for HYV supported decentralised voting and counting, with appropriate security, accuracy, privacy, and verification measures, provided public visibility for the election and engaged the attention and participation of young people. The website housing this also included information about the parliament and the elections, candidate statements and an issue-based discussion forum based on 10 topics of concern to young people, plus an open one. For more about this early work see e-voter 2000.
e-Democracy website development 2001-2004
Following the initial e-voter website, ITC began working with HYV in the development of a suite of e-democracy tools to take the form of a website to support the youth parliament.
Development took the form of a participatory design project with the Web Development Group: a dedicated team of Youth Voice members. These influenced the design of the website as well as what it should include. They also help with further development, upkeep and testing. Design and content management decisions were generally made in workshops with Youth Voice representatives (facilitated by the ITC) at HYV parliament meetings, using increasingly functional prototypes to share and test ideas. These workshops were supplemented with meetings with some of the web team as the prototypes took shape.
The website arising from this design process, followed the basic outline detailed above and was launched in March 2002 by Charles Kennedy, MP, leader of the Liberal Democrats, at the HYV Parliament meeting at Badaguish, near Aviemore in Scotland.
This website was used from 2002 to September 2004. During this time period the website underwent various improvements, arising from testing and evaluation. These included a simplification of the online policy-debating forum arising from workshops at the Sabhal Mor Ostaig parliament meeting in June 2003. The forum was also used in 2 schools in June 2004, to investigate its use as part of the curriculum.
Elections were held in 2002 and 2004, with an elections section to support the process and an e-voting system as part of this website. Evaluation of the 2002 elections led to improvements in the system for 2004. Evaluation of the 2004 elections led to a more thorough website redesign.
The redesigned website, was 'soft-launched' in September. The object of the redesign was to clarify navigation, update the look and feel and move towards WAI compliance through the use of CSS for layout. A web team of HYV members met in April 2005 and kept in contact via email. Their work resulted in some restructuring and 2 designs, which were put to parliament members at their June meeting in Sabhal Mor Ostaig. Their comments guided the development of the current site. The formal launch of this site is due to take place at the Carbisdale Parliament meeting in November 2005.
Research questions
Online electoral support and the e-voting system
Highland Youth Voice elections are held every other year. Representatives are either elected via their local youth forum or via their school. Each school chooses whether to hold a paper ballot or use the e-voting system housed on the website. The elections section (from 2005 onwards the 'reps and elections' section) aims to support both types of election. To this end the section contains comprehensive information about the elections, representatives' roles and candidate's manifestos. It also includes a turnout page, which has graphic real-time representations of the percentage of votes cast on schools voting online. Results for schools voting online are posted the day after voting ends. Results from schools holding a paper ballot are posted on this day or on subsequent days, as they are received.
The aim of the project here was to increase the number of schools using the online voting tool, increase turnout within these schools and extend the use of online voting to youth fora, where appropriate. Research questions included how to make the e-voting system simple and effective to use and how to use the website to promote the elections and encourage students to stand as candidates.
Evaluation of the 2000 elections was instrumental in the design of the website in 2001-2, leading to the elections section to support voting in 2002. The 2002 elections, including the online support, were evaluated at the HYV parliament meeting at Drumnadrochit in November 2002. Changes arising from this evaluation included:
The creation of an online diary facility for parliament meetings, so that representatives could give a more accurate picture of what they did at meetings;
Up to date information about the parliament's activities and achievements between meetings. (Unfortunately due to staff shortages at Highland Council, this was not completed).
Removal of Personal Identification Numbers (PINs) from the login process. These numbers are used to store the votes against, but, as they were distributed with passwords and user IDs, seemed to complicate the login process without offering any additional security.
Ways for students to take control of the nominations process, without the overview of teaching staff. To this end, nomination leaflets were made available entirely online.
Details of the 2002 evaluation are available in 'E-voting: the powerful symbol of e-democracy' and 'Culture and context in an online voting system for young people'.
However, in 2004 there was another drop in candidates standing, meaning that many schools were unable to hold an election. As the table below shows, there was also another fall in turnout, for both types of elections.
| year | e-voting | ballot box |
| --- | --- | --- |
| 2004 | 48.41% | 67.1%* |
| 2002 | 52.14 % | 70.58 %# |
| 2000 | 73% | 68% |
* Based on results from 5 schools, one of which is an approximate figure
# Based on results from 3 schools only
The 2004 elections were evaluated in 4 different ways.
A days online voting was observed at Dingwall Academy.
Teachers were asked to fill in evaluation forms.
Structured telephone interviews were held with teachers.
An evaluation workshop was held at the parliament meeting in Carbisdale in December 2004.
The outcome of this evaluation was that problems centred on a dearth of publicity, both about the elections and youth parliament itself. Details of this evaluation process can be found in the full report: Highland Youth Voice Elections 2004: Evaluation
We are currently evaluating the 2006 elections. If you were involved and have anything to contribute to the evaluation, please contact itc@napier.ac.uk .
The online policy debating forum
Research questions surround ways to make the forum as usable as possible and support informed discussion. Each discussion in the forum includes:
an introduction outlining the debate, detailing why it's being held and what will happen to the results;
background information to support the discussion, including links to relevant websites;
an 'expert witness' to bring supporting information into the heart of the debate - the discussion - and to draw out contributors, encouraging them to explore or explain their viewpoints.
The forum was evaluated at the parliament's Sabhal Mor Ostaig in June 2003. While parliament members found the forum easy to use, they suggested some improvements to suit their preferences. These were instigated.
In order to introduce more people to the forum and investigate its use within schools, a pilot research project was undertaken with 2 Highland schools, in June 2004. This involved using the forum within Modern Studies lessons. Modern Studies is a subject taught in some Scottish schools, which involves studying political and social structures and issues. The project involved structured use of a forum debate titled Should the voting age for The Scottish Parliament be lowered to 16? After using the forum, students were asked to fill in a questionnaire, which assessed whether the forum was easy and enjoyable to use, whether it had helped with their Modern Studies and whether they had felt that they were doing something useful. A tangential aim of this project was to raise awareness of the HYV website and encourage students to stand for election the following autumn.
While the sample group was small, the results clearly indicated that students enjoyed using the forum, felt that they learned new things and felt that they were doing something useful. Their comments in the forum are publicly available on the HYV website. For the students involved, this was a positive interaction with the HYV website and both schools involved in the pilot had enough candidates to hold an election.
In 2006, a discussion was instigated by a local health board project, with the aim of evaluating a smoking cessation scheme (STYNX): Smoking amongst Scotland's youth is still a burning issue. Information was provided online in the form of an introduction, outlining the STYNX scheme and explaining why the discussion was being held, and background information, which expanded on the introduction. Two Expert Witnesses took part, one from the project and one from the health board. They provided background information and introductory questions.
Local schools were contacted to suggest use the forum in Personal and Social Education lessons. Sessions consisted of an offline introduction to the subject and purposes of the debate, followed by use of the forum online. Two schools took part, with more students involved than in the 2004 study. Most students were 12 to 13 years old. Over 560 comments were made - many more than in any of the previous policy debates (148 in the 2004 debate).
An evaluation questionnaire was designed to match, where applicable, questions asked in 2004. Students from one school involved completed this questionnaire. The results are similar to those gained in 2004, in terms of how easy and enjoyable the forum was to use, and whether students gained knowledge or understanding from information provided or their interactions. The results of this are currently being written up to be presented at EGOV 06 (Krakow, Poland, September 2006).
Links on this website
Partners:
Publications:
Each publication is linked to its reference
News: