Peter Cruickshank
Peter joined the International Teledemocracy Centre in December 2005.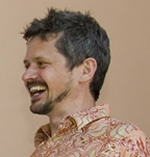 Peter is a Research Fellow. He is active in two projects at the moment: the first is Smart Cities where he is engaged with the Centre for Learning Communities in developing the knowledge infrastructure to support the triple helix model in e-government development. The other is EuroPetition where he is working on the evaluation process.
Prior to that he acted as coordinator of the eRepresentative European project, investigating the implications of providing a secure internet-based platform to enable elected representatives to carry out their legislative work remotely, and was responsible for evaluation of the performance and acceptability aspects of the HANDS ETEN project.
Between returning to Napier and completing the Multimedia post-graduate course, Peter worked as an open-source internet developer (PHP, Drupal) including multilingual systems to enable direct lobbying by concerned individuals and coordination by campaigning or educational/ research organisations.
Peter has worked as an accountant and IS Auditor and has investigated security and project management processes, and he still retains an active interest in these areas, particularly in a public-sector setting. Peter also has a research oriented blog, which can be found here.
Outside of work he is interested in travel and food - including a period growing his own in his allotment. He ran his first (and so far only) marathon in May 2008.
Contact Information
Peter Cruickshank
International Teledemocracy Centre
Napier University
10 Colinton Road
Edinburgh
EH10 5DT
UK